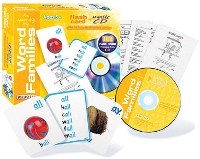 I'm Learning My Word Families - Learning Kit W/ Flash Cards, Music Cd, Worksheets (Game)
Artist: Kidzup
Item Id: kb06248
UPC: 607074029724
Manufacturer: Kidzup Productions

Temporarily Out Of Stock
Description
This easy to use, fun-filled program is designed to introduce and reinforce important reading skills. In a flash, your child will be singing and reading! Jumbo set includes: enhanced music CD, 60 two-sided full-color flash cards, PLUS you can make a 100 page activity book thatís printable right from the CD! This set will help children learn to:

Develop important listening skills.
Blend consonant sounds with short and long vowel word family endings.
Develop sight-word vocabularies so they can read at-a-glance.
Read with fluency.
Expand reading comprehension skills.