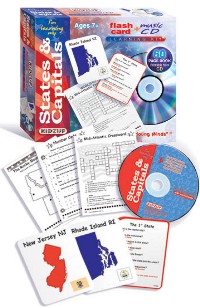 I'm Learning My States & Capitals - Learning Kit W/ Flash Cards, Music Cd, Worksheets (Game)
Artist: Kidzup
Item Id: kb05180
UPC: 607074022121
Manufacturer: Kidzup Productions

Temporarily Out Of Stock
Description
Geography comes to life as children are introduced to states and capitals through flash cards, music and 60 activity sheets. Each flash card quizzes a state's capital, location, year of induction, and other interesting facts. Included is an enhanced MUSIC CD that lets you print a 60-page book from any computer. Simply print out the activity sheets and your children will enjoy the fascinating state facts, maps, puzzles and games that build critical thinking skills. Students can also sing along while traveling through each state learning more great facts and trivia through 14 fun-filled songs and catchy lyrics. All songs repeat in split-track so kids can perform a "Karaoke-style" show. Great for social studies and geography classrooms!
Set includes 51 two-sided cards, 2 activity card and an enhanced music CD from which you can print 60 worksheets to create your own activity book.
Children will learn:
To identify the state
To name the capital of a particular state
To identify the state's shape, flower, bird, year of induction and more fascinating facts and trivia!
Track Listing
Across The USA
The United States In Alphabetical Order
The Capital City Song
The Capital City Song (continued)
The Northeastern States
The Mid-Atlantic
The Southeast
The Midwest
The Rocky Mountain States
The Southwest
The Far West
States In Order Of Induction
States In Order Of Induction (continued)
Across The USA (reprise)