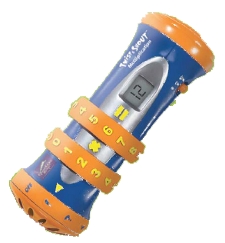 Leap Frog - Twist & Shout Multiplication And Division Fun (Game)
Artist: Leap Frog
Item Id: 40115rohs
UPC: 708431401150
Manufacturer: Leap Frog

Temporarily Out Of Stock
Description
Part of the Twist & Shout collection of math enhancing toys, Twist & Shout Multiplication is Leap Frog's flashlight-looking toy that teaches children vital multiplication skills. Like Twist & Shout Addition, this version helps the education process by making the learning aid look like a toy. The catchy musical beat plays when the toy is in use, making play/learning fun. Twist & Shout Multiplication also offers Learn, Quiz and Wildcard games on two skill levels to help kids learn their multiplication tables one number set at a time. The learning aid comes with rotating multiplication table bands and an LCD quotient box so the problem's answer is never in question. Kids won't get frustrated trying to compute/remember a problem's answer. Twist & Shout Multiplication promotes school readiness in a critical basic math function. The toy's unique design helps kids see Twist & Shout as a toy, making them more open to the learning process. As such, they are more apt to use it, practice their math and improve their school grades. Because of the rotating numbered bands, children also stimulate their motor movement skills. Three different game modes help kids learn their tables from 0-12 "one number set at a time" and even introduce subtraction or division. Twist & Shout keeps score and congratulates children on every right answer, and provides the correct answer when an incorrect answer is chosen. Requires 3 AA batteries (included)
From the Manufacturer
From the award winning Twist & Shout line, this fun learning game features multiplication tables from 0 to 12, with a cool, musical beat. New "Beat the Clock" game challenges children to answer as many questions as they can in 90 seconds, so think fast. Colors may vary.
CUSTOMER REVIEWS
A great toy for any 2nd or 3rd grader. This is not like flashcards at all. My son gets home from school and if it is sitting out he just grabs it and starts playing. Math is not his favorite, but this toy is. He loves to show off his knowledge of the big numbers. (ie. 11x12, 9x12 etc). After I saw how popular this toy was I started thinking of every possible 2nd and 3rd grader I needed to buy Christmas presents for.
THE BEST!! I bought this as a last chance thing, because no matter how hard my daughter tried, she could not seem to memorize any multiplication tables past 6. One weekend with this gadget, and she can now not only recite multiplication tables from 1 to 12, but can also multiply equations in her head! Her math scores have doubled, and I am just too happy with this gadget! I have recommended it to other moms going thru the same thing, and after suggesting it to her math teacher, he bought one, and gives it to children to "play" with as a reward!
Multiplication fun. I teach third grade. One of my students brought in Twist and Shout Multiplication to help the students review. All of my kids love it and enjoy reviewing their math facts with it. It incorporates math review and an exciting game.
WOW! What a wonderful toy. Teaching mulitplication facts has never been easier. My third grade students love to practice their facts every day using the Twist and Shout. I have several of these in my classroom. Every night they go home with a different student. I am not sure who plays with them more, the students, the parents, or me. A sure buy for anyone wanting to master multiplication!
Awards
*Winner, 10 Best Children's Education Products, Dr. Toy
*Winner, Oppenheim Toy Portfolio Golden Seal Award
*Winner, Sesame Street Magazine