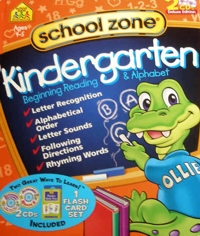 On-track Kindergarten Beginning Reading & Alphabet Deluxe Edition Cds/flash Card Software Box Set (Game)
Artist: School Zone
Item Id: sz08142
UPC: 076645081421
Manufacturer: School Zone Interactive

Temporarily Out Of Stock
Description
Get this top rated Educational box set and help your child advance his/her reading and alphabet skills. This early learning adventure set combines the best of practice and play activities. Developed by teachers and educational experts, School Zone's On-Track Software is designed with a unique progress tracking feature allowing children to work at their own pace. Activities are combined with playful animations, silly sound effects, and fun games, all incentives for work well done! Each Each On-Track title teaches basic skills, builds confidence, and prepares children for school success.
Recognition of letters, alphabetically, by the sound of letters, (Rhyming Words, Creative Writing, Word Recognition, Alphabetical Order, Picture Clues, Sentence Understanding, ABC order, Setter Sounds , Letter Recognition & Following Directions). Each CD contains a series of exercises and activities that exercise a fun way of learning the alphabet (Complete words, string of letters, identifying the first letter contained a specific illustration of landscapes and short stories), this deluxe package also includes a flash card set that relates figures and words
The product includes: Two (2) cds, One (1) flash card set
Compatible with Windows and MAC.
Awards
Winner of over 50 major industry awards