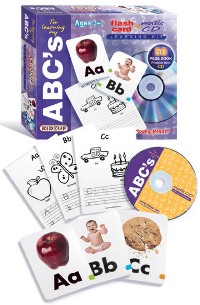 I'm Learning My Abc's - Learning Kit W/ Flash Cards, Music Cd, Activity Book (Game)
Artist: Kidzup
Item Id: kb04140
UPC: 607074016922
Manufacturer: Kidzup Productions

Temporarily Out Of Stock
Description
Introduce children to the alphabet through flash cards, music and activity sheets. This Teacher- Created new learning kit is proven effective for building basic skills and reinforcing learning programs.
Set includes 52 colorful two-sided cards, activity cards, a music CD and 50 work sheets to create you own activity book - printable from the CD.
Children will learn:
Lowercase alphabet
Uppercase Alphabet
Letter Sounds
Simple Phonics and more!
Track Listing
Intro
The Alphabet Song
A to H Alphabet Sounds Song
The Letters On The Bus
'A' Is For Apple
I to P Alphabet Sounds Song
Alphabet Boogie
Old MacDonald Had Some Vowels
Q to Z Alphabet Sounds Song
How Many Letters In The Alphabet?
I've Been Working On My Letters
BINGO Phonics